01 May 2018
Шепард Фейри, современный художник.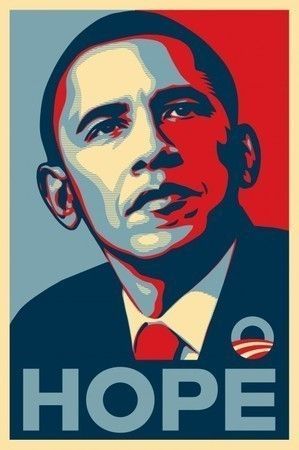 Фрэнк Шепард Фейри – знаменитый американский уличный художник, графический дизайнер, иллюстратор и политический активист в одном лице, более всего известный нам как основатель линейки одежды "Obey".
Он родился 15 февраля 1970 в Чарльстоне, штат Южная Каролина, в семействе врача и риэлтора. С раннего детства отличался непокорным нравом и большой страстью к рисованию.
Первое время рисует на футболках и скейтбордах для своих друзей, после чего поступает в калифорнийскую Академию Искусств и с блеском ее оканчивает. Первой его знаменитой работой стал своеобразный черно-белый портрет известного всему миру гиганта-борца из Франции – Андре Руссимоффа, под которым еще красовалась знаменитая фраза «Великан владеет толпой». Позже вместо этого будет красоваться «Obey" и станет одним из самых узнаваемых современных брендов. Изначально стикеры и плакаты с изображением Андре распространялись лишь знакомой Шепарду группировкой скейтеров, однако потом все больше и больше людей стали проникаться скрытой в ней философией.
В девяностых ему удалось представить общественности более ста пятидесяти графических работ, и это не только в США, но все они не получили такую популярность как вышеупомянутый портрет. Хотя, многие из них попадали во внимание критиков уличного искусства (в частности, как граффити), а некоторые и вовсе попали на выставки современного искусства.
В 1994 году Фейри начинает свой первый полномасштабный бизнес и производит первую партию одежды с принтами собственного производства. Чуть позже он знакомится с молодым режиссером Хелен Стиклер, которая, в свою очередь, снимает о художнике документальную короткометражку. Ее премьера состоялась на Нью-Йоркском независимом фестивале в 1995 году, а в 1997 на крупном фестивале Сандэнс (всего картина насчитывает около семидесяти показов на различных официальных мероприятиях).
В 2003 году Шепард создает обложки для альбомов The Black Eyed Peas "Monkey Business", The Smashing Pumpkins "Zeitgeist", Anthrax "The Greater of Two Evils", а также многих других. Через год выступает как активный противник военных действий, а также политики Джорджа Буша младшего.
В 2005 году сотрудничает с Dj Shadow и Джонни Кэшем, и показывает свои творения в Париже и Гонолулу. Параллельно с этим он написал несколько книг, которые, хоть и не стали бестселлерами, но были весьма популярны и переведены на несколько языков.
2008 год стал еще одним ярким моментом в жизни дизайнера, так как он, в поддержку нового кандидата в президенты Барака Обамы, создает свое знаменитое произведение «Hope". Обвинения в вандализме постоянно преследовали Фрэнка весь подростковый период, но и в более сознательном возрасте стражи порядка относились к нему и его искусству с не меньшим пренебрежением, а самым недавний его арест был не так давно, в июле 2015 года в Лос-Анджелесском Международном Аэропорту.
Чуть позже был замечен в качестве камео в комедйином сериале Портландия. До этого , так же в качестве самого себя, появлялся в Симпсонах, а также в видео-игре "Marc Ecko's Getting Up".
За более подробной информацией, свежими новостями и эксклюзивной продукцией художника, рекомендуем Вам перейти по ссылке на его официальный сайт: www.obeygiant.com