TRANSGEOMETRIC INTELLIGENCE
Oil
Canvas on a stretcher
Height 80 cm, width 80 cm
Presence of frame: no
Having a mat: no
Year of creation: 2015
Author: AGATHOS (CARLO FRANZOSO),
Italy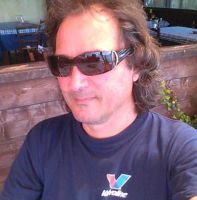 Description of the picture
TRANSGEOMETRIC INTELLIGENCE IS AN ART WORK MADE BY A FAMOUS ITALIAN ARTIST CARLO FRANZOSO (AGATHOS) . IT IS A PAINTING MADE BY OIL .THE SIZE IS 80X80 CM. IT IS CATALOGED IN A WORLD FAMOUS MAGAZINE «ARTE MODERNA» N.51 MONDADORI EDITION. IT IS ALSO CERTIFICATED BY ORIGINALITY. THE WORK IS AVAILABLE. THE PRICE IS 35000$.
Other works of the author
No results.